Introduction
Think of employee communication as the sharing of information between organizational leadership and their employees—and vice versa. Effective employee communication can have a positive impact on all aspects of a company. Likewise, poor employee communication can lead to workplace inefficiencies and create challenges for successfully engaging and retaining employees.
The great thing about employee communication is that employers can always improve their internal communication, and initiatives can be scaled for any size organization since the goal is to tailor a communication style that is effective for that company's leadership, management and employees. That being said, while employee communication is often an emphasized effort for leaders and HR professionals, that doesn't mean that it is always effective. Here's an interesting figure from Gallup to consider:
74% of employees feel they are missing out on company information and news.
So, even if an organization already has employee communication initiatives in place, it's important to continually measure and evaluate those efforts to ensure employees are informed and engaged—and don't feel like they're missing out on news.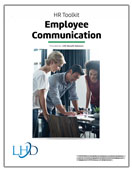 This HR Toolkit will provide an overview of employee communication, discuss the importance of employee communication and suggest a step-by-step process for developing or updating a communication strategy. Since employee communication can be both formal and informal, this toolkit will address formal communication strategies and informal communication tactics or initiatives. In addition, the Appendix offers supplementary resources, including an employee survey, infographic, planning checklist and more.
Click here to download your full copy of the Employee Communication HR Toolkit.
Employee Communication Strategy
We've also made available this Employee Communication Strategy Checklist. Use this as a suggested step-by-step process of creating and managing a formal employee communication strategy. Components and the overall goal can be implemented less formally at smaller organizations. If your organization is still unsure of the importance of communicating with your employees, check out the research on our blog.