While 1 in 5 people will experience a mental illness during their lifetime, everyone faces challenges in life that can impact their mental health. In 2021, our theme of Tools 2 Thrive continues to provide individuals with information and coping strategies around common struggles that affect mental health – especially during the COVID-19 pandemic.
This year's toolkit includes:
Media Materials
Key Messages
Drop-In Article
May is Mental Health Month Proclamation
Social Media and Web Components
Sample Post Language
Facebook and Twitter Cover Images
Shareable Images for Facebook, Twitter, and Instagram
Call to Action Buttons for Screening
Pop Under (Horizontal) Web Banner
Wide Skyscraper (Vertical) Web Banner
Posters
Tools 2 Thrive Poster
Screening Poster
Fact Sheets
Accepting Reality
Adapting After Trauma and Stress
Dealing with Anger and Frustration
Getting Out of Thinking Traps
Processing Big Changes
Taking Time for Yourself
Worksheets
Practicing Radical Acceptance
Processing Trauma and Stress
Managing Frustration and Anger
Dealing with the Worst-Case Scenario
Dealing with Change
Prioritizing Self-Care
Other
Outreach Ideas
Additional Resources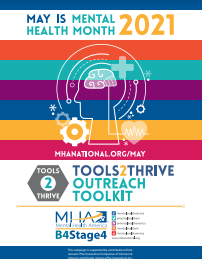 If you have questions on how to introduce the importance of mental health to your staff, please reach out to our population health team. Download the full Toolkit.